In my mind, Korean food is always so red. Turns out, there's a simple trick to that: gochugaru. Red chili powder. The Korean grocer just sells very large quantities of it. The smallest package is 7 oz, which means I now have more gochugaru than all other spices combined.
---
Soondubu Jjigae (Korean spicy tofu stew)
To make a stew, I want to start right at the source: an anchovy and seaweed stock. Sourced from chowdivine and zenkimchi and kimchimom.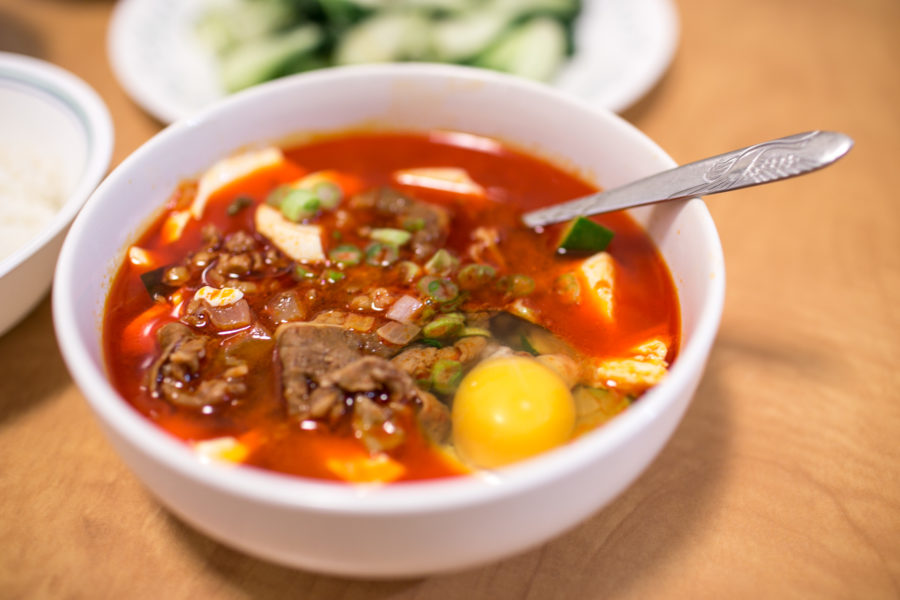 Stock: 
2″x3″ strip kombu (or dashima), 1/2  onion, 3 garlic cloves in 8 cups water. Boil for 10 minutes.

10 large dried anchovies, gutted. Add, then boil on low uncovered for 15 minutes.

Scoop out solid ingredients, leaving golden broth.
Soondubu with beef:
Marinate 10 oz thinly sliced steak in 2 tbsp gochugaru (pepper powder), 1/2 tbsp minced garlic, 1 tbsp sesame oil, 1 tbsp soju (or cooking wine), 1.5 tbsp soy sauce, 1 tsp salt, pinch pepper.

In pot, saute 1/2 onion. Add beef and ladle of stock, and cook beef.

Add enough (how much?) broth. Adjust seasoning.

Add 11-oz tube of soondubu (silken tofu) and 1/2 zucchini, and simmer for at most 3-5 more minutes, or else will draw water from tofu.

Serve with room-temp egg, scallions, and steamed rice.