I go out of my way in Chinatown to buy cha siu because it was a dish that I never dreamt of cooking. However, when I bought a pork shoulder on a whim and subsequently frantically looked up ways to cook it Chinese-style, cha siu came up. I didn't even realize that was the cut used! Next time, I will be sure to buy the fattiest cut available.
Shoutouts to thewoksoflife.com, with consistently good Chinese and Taiwanese recipes, and invaluable advice on how to emulate industrial cooking equipment in the home kitchen.
---
Cha Siu (Cantonese BBQ Pork)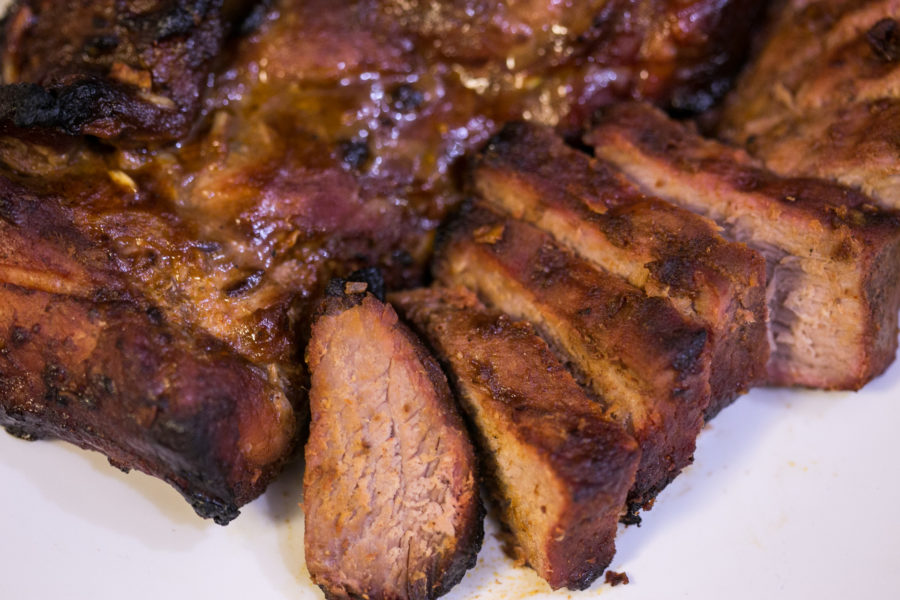 3 lb pork shoulder/butt

, very fatty, cut obliquely into flat 1"-thick strips. Marinate in bag overnight.

Barbecue sauce:

2 tbsp sugar, 1 tsp salt, 1/2 tsp five spice, 1 tsp paprika, 1/4 tsp white pepper, 1 tbsp plum wine

(or rice wine),

1 tbsp soy sauce, 1/2 tsp sesame oil, 2 tsp hoisin sauce, 2 tsp tomato paste, 2 tsp molasses

(or 3 tsp honey),

1 tbsp oil, 3 cloves garlic

minced, 1 tbsp hot water.

Prepare baking tray, lined with foil, with wire rack atop. Place pork on top, reserving marinade for basting.

Roast in upper rack of oven at 475+ F for 25 min. Flip, brush with sauce (important), then roast for 25 min more. Rest for 5 min.