Korean food time! Korean restaurants often start with a big collection of banchan, little side dishes like pickled veggies, preserved seafood, and other little things. Feasible on a restaurant scale (or a habitually Korean-eating household, I guess!), but I'm just going to make one: japchae, the glass noodles. I'll make it up by making it super colorful.
---
Japchae (Korean glass noodles)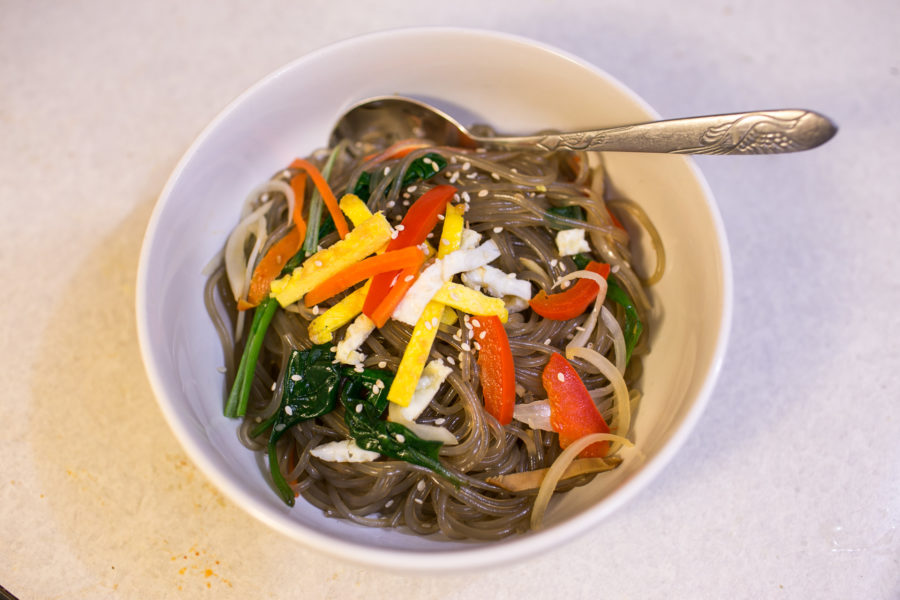 250g sweet potato starch noodles

, boiled for 7 minutes, then rinsed in cold water, then mixed with

3 tbsp soy sauce, 1 tbsp honey, 1 tbsp brown sugar, 1 tbsp sesame oil, 2 tsp minced garlic, 2 tsp roasted sesame seeds, pinch pepper

.

Garnish with:

Lean beef

(sirloin or rib eye) sliced small then marinated in soy sauce, garlic, sesame oil, rice wine

Blanched

spinach

in sesame oil, garlic, soy sauce.

Sliced fresh

shiitake mushrooms

marinated in noodle sauce.

Carrots

julienned, sliced

onion

,

bell pepper

julienned,

scallions

in strips, stir fried.

Jidan: Omelette-like

fried egg yolk

,

fried egg white

, sliced into matchsticks.

Sesame seeds
---
To use up more of my copious amount of gochugaru, we cooked some spicy pork. Somewhere I read that typically beef bulgogi is cooked non-spicy, and pork "bulgogi" is cooked spicy. Can this be verified?
Korean Spicy Pork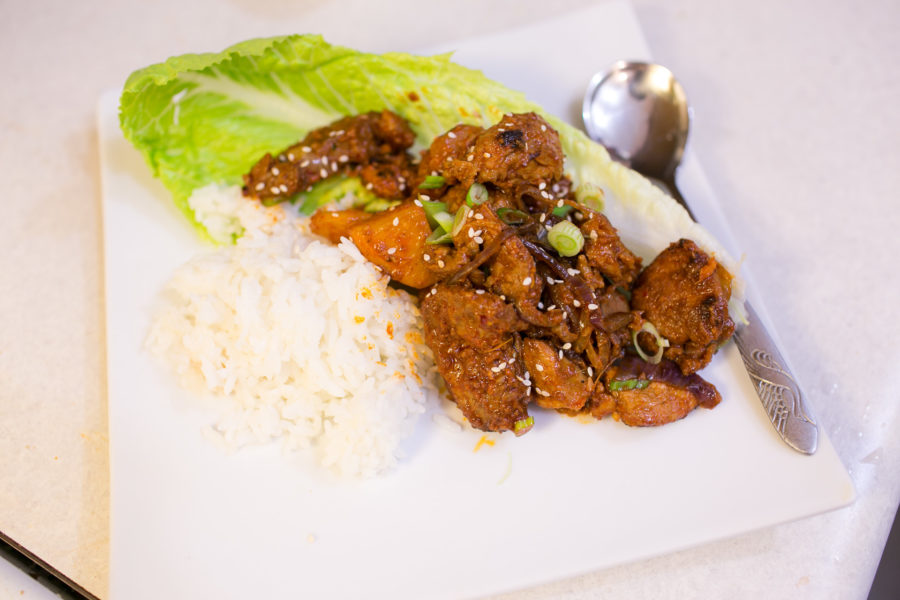 Blend together

5 tbsp gochujang

,

1/4 cup asian pear

(~1/6 huge pear),

6 cloves garlic

,

1" ginger

,

1 tbsp soy sauce 1 tbsp sesame oil, 1 tbsp sugar, 1 tbsp rice wine, 2 tbsp gochugaru.

Marinate

2 lb pork shoulder

, cut to thin strips

Saute

1 onion

thinly sliced,

2 scallions white parts

sliced,

1 korean green chili pepper

until softened. Reserve.

Saute

1 packed cup kimchi drained

. Reserve.

In batches, brown pork until cooked through and starting to brown.

Combine everything, sprinkle with sesame seeds.

Serve with lettuce, gochujang, rice.