I learned about this Muslim-influenced Thai curry made with chicken potatoes, and peanuts. Thankfully I got the timing right so that the potatoes were soft but not mushy, the chicken cooked through but moist, the peanuts still crunchy, and the tomatoes just falling apart. Except I didn't have plum tomatoes so I used my (ridiculously good) pearl tomatoes eighthed instead.
I'm growing fond making curry from scratch! I've got a big spice pantry to consume now anyway.
Recipe from foodandwine.com
---
Massaman Curry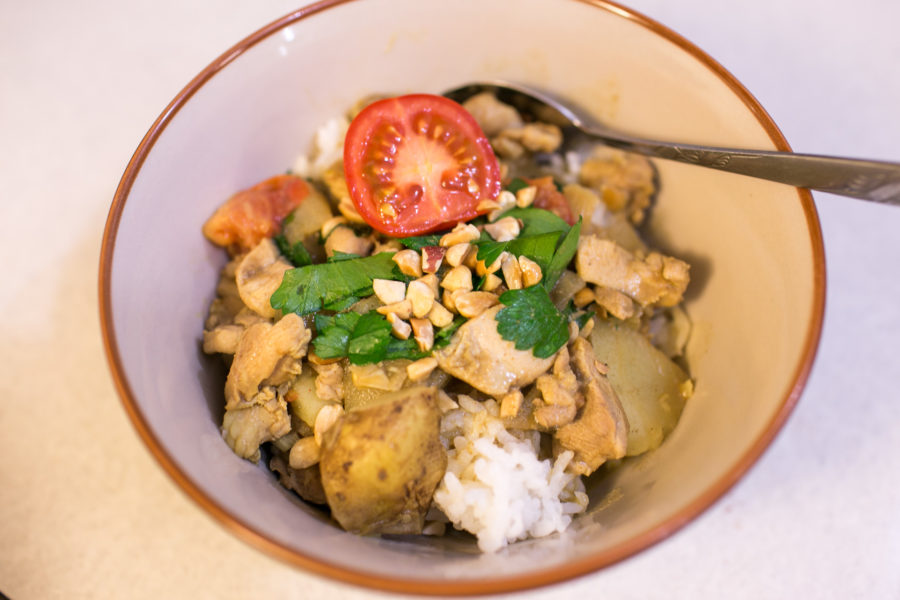 Saute

1 onion

diced.

Add

2 cloves garlic

minced,

1/2″
ginger

chopped, 1 tsp

five-spice

, 1 tsp

cumin

, 1/4 tsp

cayenne

, 1/4 tsp

turmeric

, 1/2 tsp

salt

.

1 cup

chicken stock

,

1/2 cup coconut milk.

Add

1/2 lb potatoes

, peeled and cubed, simmer for 12 minutes.

Add

1.5 lb chicken breasts

, simmer for 5 minutes.

Add 1/2 cup chopped

peanuts

,

1/2 lb plum tomatoes

, 3 tbsp

cilantro

, simmer for 2 minutes, until chicken is done.

Serve on rice.
---
Thai Cabbage Salad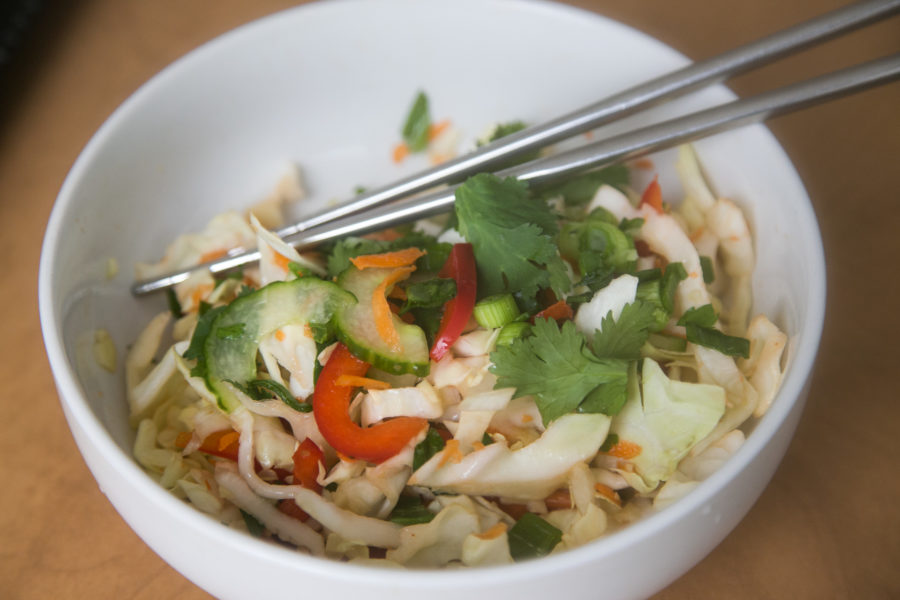 4 cups shredded napa cabbage, part red cabbage

1 cup shredded carrots

1 red bell pepper, thinly sliced to bite sizes

1 small cucumber, seeded, half moon sliced

1 cup edamame

2 scallions, thinly sliced

1/2 cup cilantro, chopped

Dress with

4 cloves garlic (plus 2 red bird's eye chili peppers seeded) and 1/4 tsp kosher salt mashed to create paste. 2 tsp light brown sugar, 2 tsp fish sauce, 1 lime of juice (2 tbsp).