When the zipper of my decade-old daily backpack broke last month, I was split between grieving and rejoicing.
I recognize how much I'm attached to my trusty backpack, a battered black Jansport laptop backpack from the mid 2000s with two main compartments, two bottle holders, and six inner pockets. I've taken it all over the world, across the country many times, up mountains, through rainstorms, and to countless classes. My backpack has been an invisible fixture that has ferried my possessions and me through half of my life.
At the same time, good riddance! The thing never suited me well. At like 38L capacity and 3 lbs itself, it's wider than me and heavier than it need be. I never use the hefty hip strap, the side straps itch my forearms, and the top handle feels so weak that I've never trusted it. My laptop rattles in the antiquated 15" notebook computer sleeve. The prominent inner pocket with a velcro flap was probably designed for flip phones; I know this because, when I had a flip phone, I kept it in that pocket.
Not only was it a poor fit, the thing has been broken for 8+ years. Seriously! For some reason, Jansport sewed this stupid semi-translucent mesh of stiff plastic wires on the surface of the shoulder straps to flaunt it's "Airlift" technology. Before long (i.e. by 2009), it frayed at the bending point where my sharp shoulder cuts into the strap. While I waited for the bag to break in earnest, I periodically trimmed the fibers as I took the liberty to abuse my backpack even more.
It's been plopped down in wet grass, dusty dirt, icy snow. It's carried sweaty laundry, 15-lb bags of rice, a tripod with soiled feet. It's been sprayed by mud from cycling in rain without fenders. It's quite liberating to have a bag to abuse, a shell to exploit. Though the bag has survived technically, it has aged poorly. The waxed inner lining flakes off in pieces and I have to brush it off any clothes I pack in it. Similarly, I carry my Rubik's Cubes in boxes to keep the debris out. The bag's back plate is broken, so the entire structure sags unless I leave my clipboard inside. The elastic bottle holders are so lax that I only attempt to carry <75% full bottles in it; even then I've dropped many (at inconvenient times too, like biking 20+ mph or climbing mountains in moonlight).
Although I endured its quirks, in retrospect I see that my tattered backpack had a negative influence too. My life was getting encumbered by the clipboard, the half-empty water bottles, other workarounds for the bag's deficiencies. When the main zipper lost a tooth last year, I reconditioned my habits to have my zippers join exactly at point instead. I was molding my own life to fit inside my backpack's limitations. Ironic, no?
Even as I grew from high school to college to med school, refined my travel packing habits, downsized laptops, added then subtracted cubes, and acquired a monstrous camera, the old bag remained. Even as I replaced my wardrobe to update my visual image, somehow my most ubiquitous accessory lingered, frayed fibers of the broken shoulder strap reminiscent of my frizzy hair of high school. Even as I learned the value of being intimately familiar with tools like my camera or stationery (or cutlery (ahem, spoon)) and never compromising, somehow my backpack was exempted from the same scrutiny. It was baggage. Literal baggage. Literally keeping my life in its confines, its ragged canvas and antiquated design.
Thus, when the entire zipper finally came off its track, I was relieved. It felt like a release that let me go out and find a replacement guilt-free. But… I didn't. For two weeks the zipper was broken and I still clung to my old backpack (and it clung to me, of course). During that time, it really struck me how I had been entrusting my backpack to contain my most valuable possessions for a decade, but I hardly ever recognized that my backpack itself was just as much a possession. I kept it ostensibly for frugality, but there was an element of familiarity. Maybe even fear.
I feared that the hunt for a replacement would be laborious. Unlike choosing my old Jansport, which was grabbing a random neutral-looking laptop backpack at some sports store and asking my mom to pay because I was like 15 years old, I wanted to be deliberate this time. Being deliberate meant a close examination of my own habits, admitting my quirks, and believing that they might last for another decade. Not only should my new backpack balance sufficient storage with minimalist efficiency, my backpack will contain my identity.
After surveying like 24 backpacks in the Mall of America in Minnesota (long story), I found a promising backpack in the Fjällräven store. It is 1.5 pounds. It has no extra straps, no superfluous pockets, no fancy materials to fray. It snugly holds my 14" ultrabook, the main pocket cradles my full-frame DSLR plus one lens perfectly when cushioned by winter gloves. The front pocket holds an A5 notebook and four pens. It has a hidden compartment for the wallet I don't like sitting on. The side pockets will never lose bottles again.
I got the backpack in bright red because red matches Harvard and Cornell and Canon, because red hints at a maverick confidence (it's a really bright red), and because why not.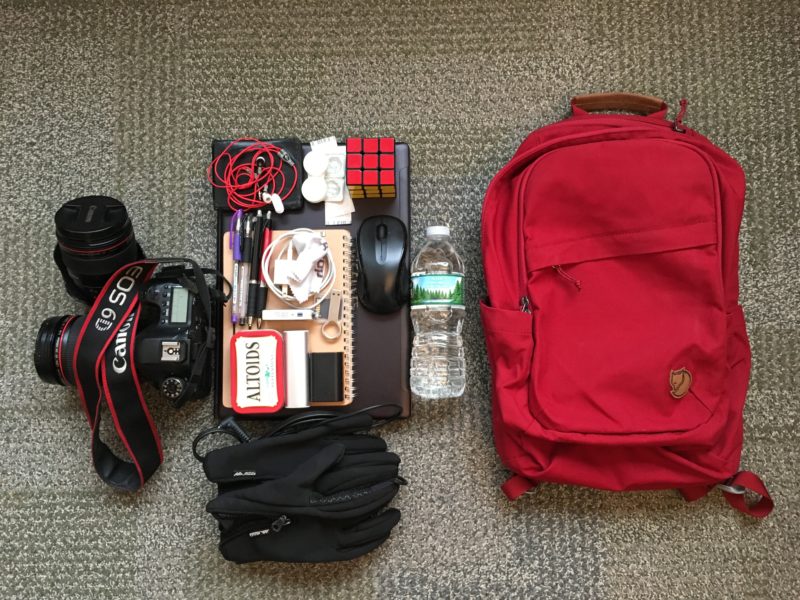 ---
Nostalgia lane: my backpack has been through a lot.