I've wanted to cook a legit European beef stew all year, so a Thanksgiving I expected to spend alone seemed like a good opportunity. However, turns out a few of my friends could join, so instead we shared a poultry-free Thanksgiving!
Beef Stew (Julia Childs' Boeuf Bourguignon)
Recipe from bingingwithbabish. Ultimately this recipe was a ton of work and more expensive to make than my typical dish (especially with the pearl onions) but man was it good. Turns out multicolor onions and carrots all look brown in stew, lol.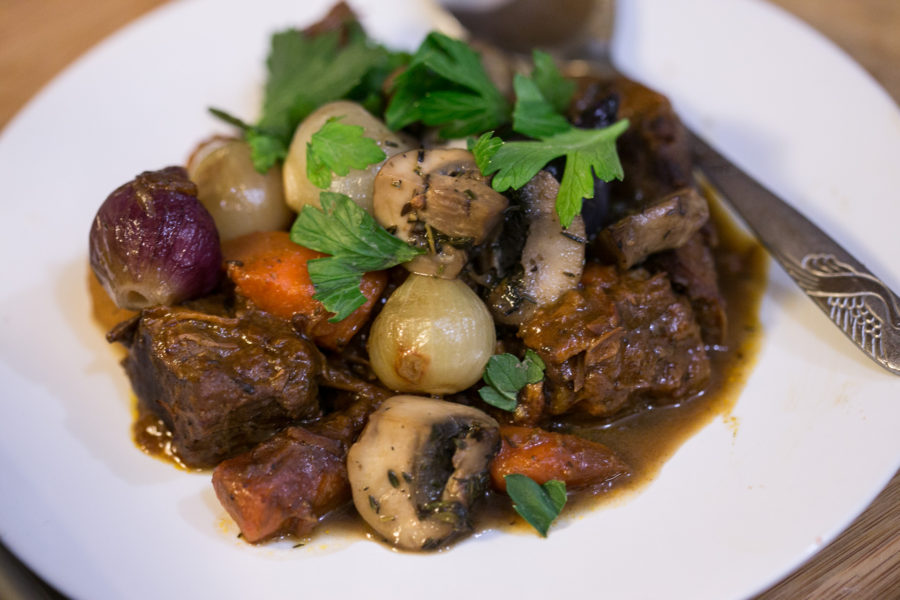 Saute

6 strips bacon

chopped until brown and fat rendered out. Set aside.

Cook

3 lb chuck roast beef

cut to cubes seasoned with

salt

and

pepper

in the bacon fat without crowding until nicely browned.Coat beef with

1/4 cup AP flour

. Set aside.

(Bake beef in 400 F oven for 20 minutes, tossing in the middle.)

In remaining fat, saute

1 onion

chopped and

5-8 carrots

peeled and coarsely chopped until soft. Set aside.

Deglaze pan with a bottle

(3 cups) red wine

.

In a dutch oven, combine beef, bacon, onions and carrots, wine,

3 cups beef stock

(enough to cover),

3 cloves garlic crushed

,

1 tbsp thyme chopped

,

1 bay leaf

,

2+ tbsp tomato paste

. Bake with lid ajar for 3+ hours, stirring occasionally.

Peel

1 lb pearl onions

(dunk in boiling water, then stop cooking with ice water. Cut off root, pinch at stem). Brown in oil, tossing frequently. Deglaze with

1 cup beef stock

, then simmer for 45 minutes or so, until soft but still retaining shape.

Cook

8 oz mushrooms

halved in

2 tbsp butter

seasoned with

1 tsp thyme

,

salt

,

pepper

.

Once stew is cooked, strain liquid, then aggressively reduce until thickened.

Serve all together topped with chopped parsley

.
---
Pumpkin Pie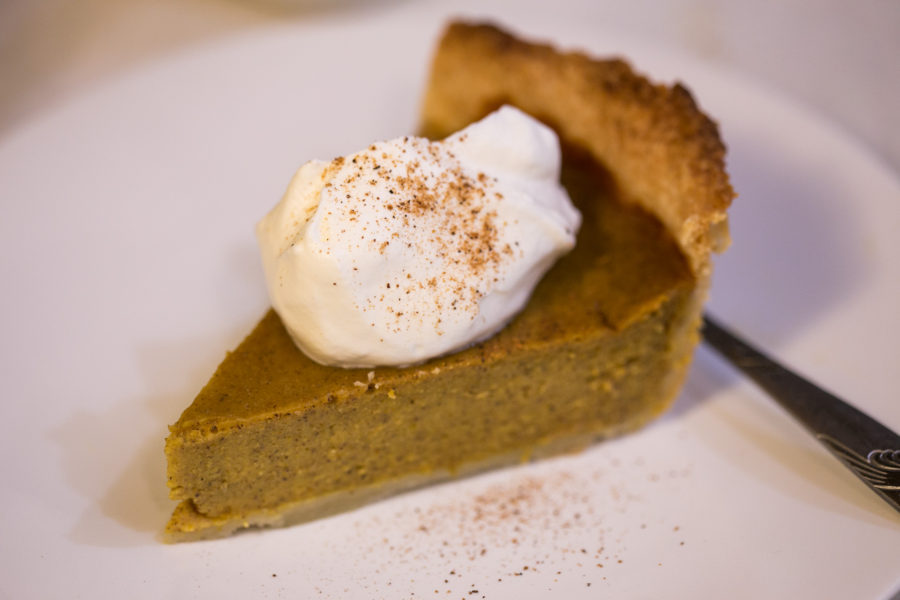 I stumbled across a funny recipe using sweetened condensed milk, and I had a can lying around. The pie crust is still the hardest part.
Make a single-layer

pie crust

. Blind-bake at 425 F for 15 minutes (with center weighed down) until edges start to brown.

Combine

15-oz can pumpkin

,

14-oz can sweetened condensed milk

,

2 eggs

,

1/2 tsp lemon zest

,

1.5 tsp cinnamon

,

1 tsp ground ginger

,

1/2 tsp ground nutmeg

,

1/2 tsp salt.

Pour into prepared crust.

Bake at 350 F for 45-50 minutes. Cover edges with foil to prevent excess browning of crust. Done when clean toothpick.

Let deflate and cool completely, then slice. Rewarm at 300 F for 15 minutes. Serve with whipped cream.
---
Roasted Brussels Sprouts
Edit: see the updated version here.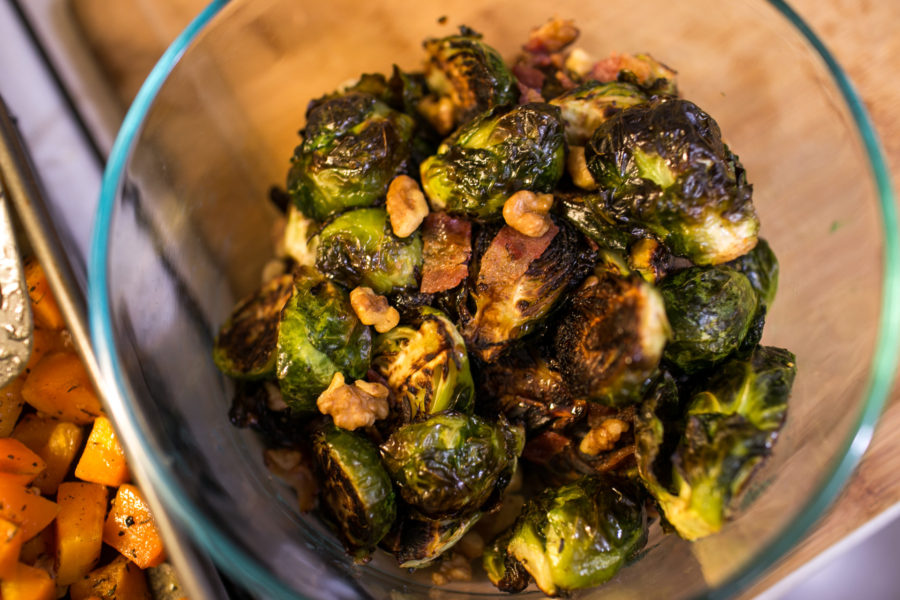 ---
Rice thing
Saute 2 ribs celery, 1/2 small onion, 2-ish mushrooms all diced.
Steam 2 cups brown rice with a pinch of salt, 2 cloves, 1/2 clove garlic crushed, the veggies, and a handful of dried cranberries.
Top with with toasted pine nuts and slivered almonds.
Mashed Sweet Potato
Wish, peel, and coarsely chop 2 large sweet potatoes. Boil in salted water for 20-30 minutes, until easily pierced with a fork. Drain. Mash. Serve. (really that's it)
Roasted Butternut Squash
Roasted Veggies
Roast bell peppers, carrots, and onions sliced at 400 F for 40 minutes with salt, pepper, and olive oil, stirring occasionally. Add sliced zucchini halfway through.
Zucchini Bread
We also shared a wintermelon cabbage tofu soup, a wood ear pork dish, and mulled apple cider! Yum.