I got a cast iron skillet. It sears meat well.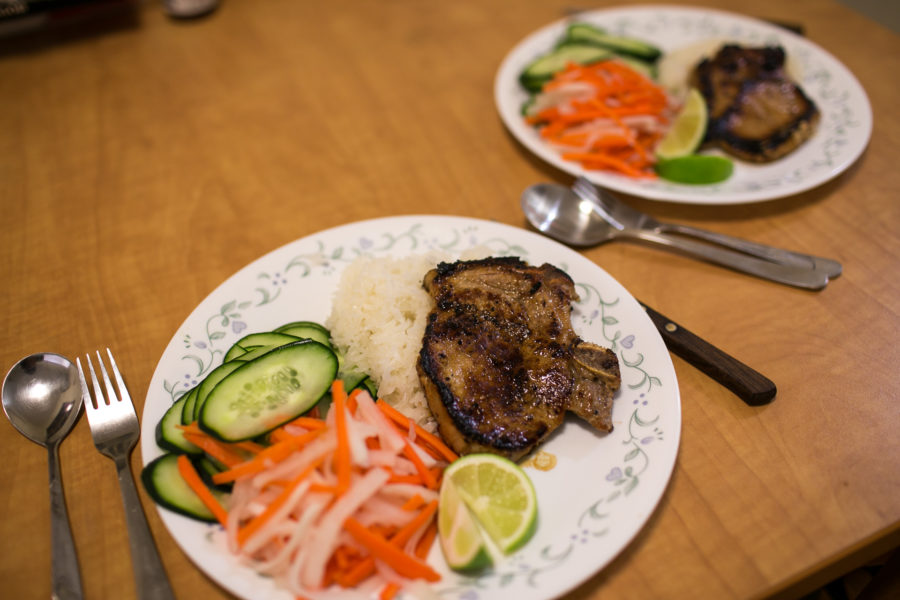 Pork chops from this resource, but with sugar cut down.
---
Viet Pork Chop
2 pork chops, thick cut, bone in. Score sides, pierce all over with fork

2 tbsp fish sauce, 1 tbsp rice vinegar, 1 tbsp light brown sugar, 1 small shallot minced, 1/2 tsp pepper

Marinate 20 min room-temp or overnight in fridge

Scrape off excess marinade and boil 4 minute to make sauce

Cook pork in oil about 4 minutes per side. Rest 10 minutes.
---
Daikon is easy to julienne (cut into matchstick-size strips). Carrots? Non-trivial.
Pickled Carrots and Daikon
½ lb carrots, ½ lb daikon julienned

3 tbsp sugar, 2 tbsp salt, ⅓ cup (rice or white) vinegar, 4 cups warm water

Pickle for 3 days in fridge.