Despite being Taiwanese, my family is probably more into Japanese food. Time to make some.
---
Oyakodon (chicken and egg on rice)
I like this dish so much that I used to order it at all sorts of Japanese restaurants, even forgoing other delicacies. Last year, my mom taught me her version, which is like a Taiwan/Japan hybrid with lots of egg. This time, I'm aiming for more traditional: steaming in the sukiyaki broth, following justonecookbook.com. (last updated 8/29/17)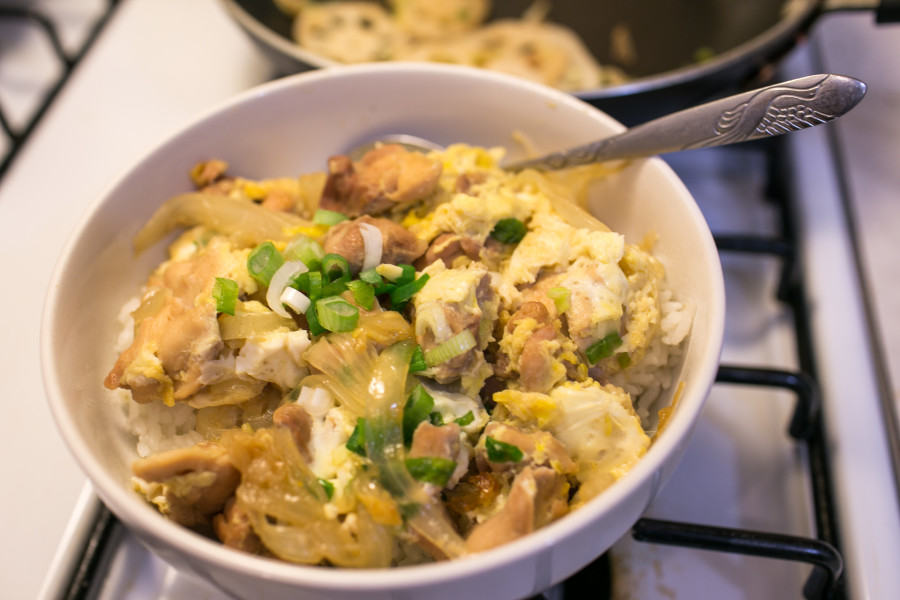 In a small pan,

1/4 cup dashi

(1/8 tsp hondashi in boiling water),

1 tbsp mirin

, (1 tsp sake),

1/2 tbsp soy sauce

,

1/2 tsp sugar

.

Add

1/2 small onion

thinly sliced in single layer.

Add on top

1-1.5 chicken thighs

cut into bites obliquely and seasoned with

salt

and

pepper

.

Simmer covered on medium for 10 minutes.

Drizzle in

1 egg

. Stir around to distribute. Garnish with scallions/mitsuba. Simmer for 2-3 minutes, until egg is just set.

Slide onto bowl of white rice

.
---
Chawanmushi (savory egg custard)
My mom makes it with chicken broth instead of dashi. Huh?! Tracking this japancentre.com recipe, with input from here and here.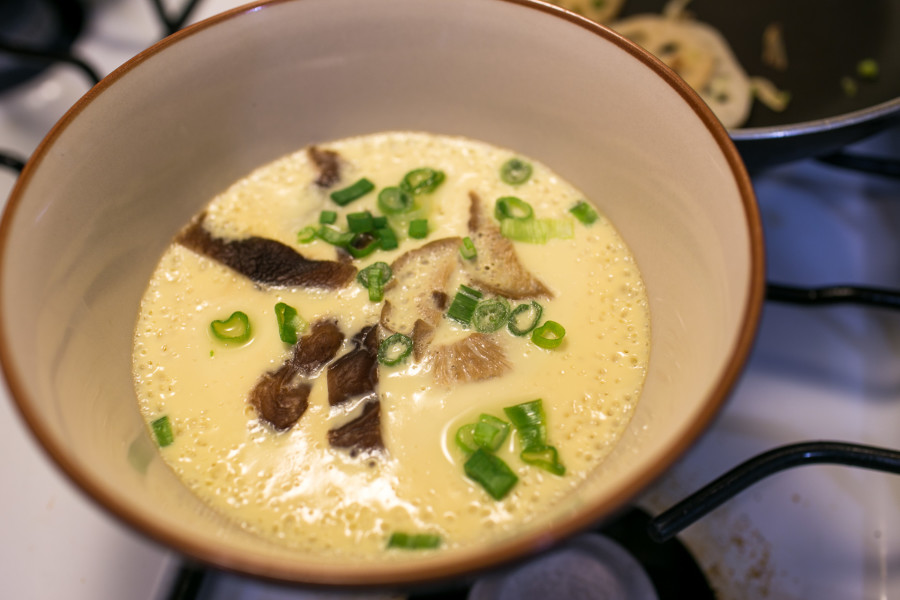 3 eggs, beat gently

1 cup dashi (1/2 tsp hondashi powder in 1 cup boiling water), 1 tsp soy sauce, 1 tsp mirin, 1 tsp sugar, pinch salt.

can substitute with about 1 cup (equivalent of 1.5x volume of eggs) warm chicken broth.

Mix into egg slowly. strain through fine sieve.

Can add shiitake mushrooms, kamaboko fish cake, carrots, marinated strips chicken shrimp. arrange in bowl and pour egg around.

steam 5 minutes medium bowl, then open pot to let out steam, then steam 3 more minutes, until clean toothpick.

Can garnish with scallions/mitsuba at halfway point of steaming.
---
Miso Soup
Following instructions on the miso packaging, haha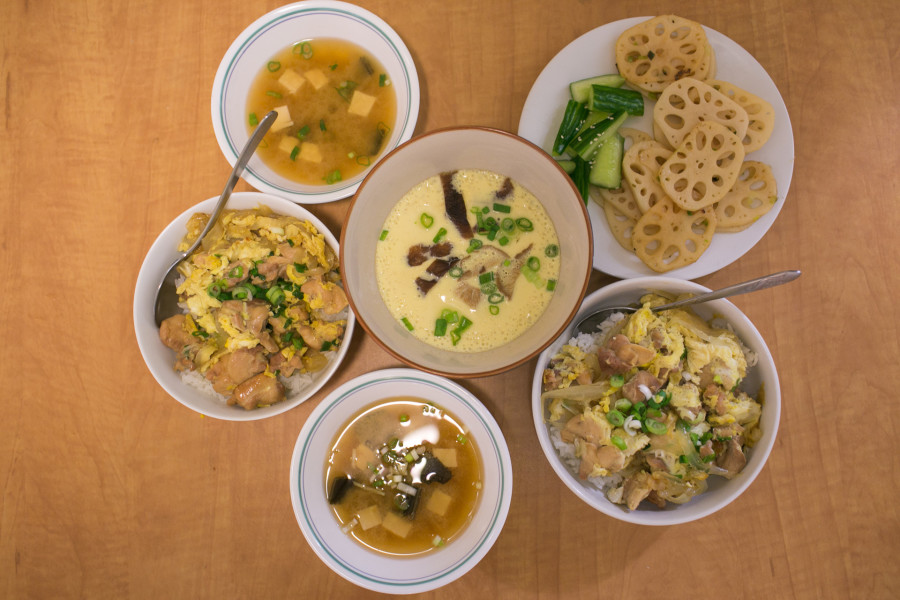 miso paste, sugar, dashi (ratio?), water.
serve with scallions, tofu, kombu.
I also stir fried lotus root.
---
For the grand finale:
Castella (Japanese Honey Cake)
I followed this recipe from justonecookbook.com/castella to the letter. Paraphrased here.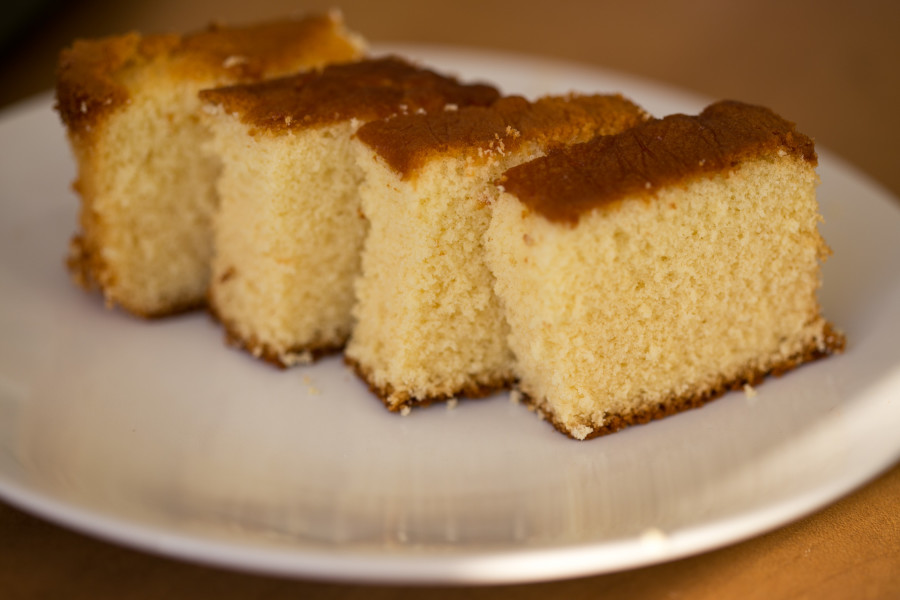 3 eggs, at room temp. Beat thoroughly.
Add 1/2 cup sugar, with electric hand mixer beat at highest speed for 7+ minutes, until quadruples in volume.
2.5 tbsp honey, diluted with ~2 tbsp warm water, mix in for 30 sec at low speed.
3/4 cup bread flour, double sifted. add in thirds, mixing 15 sec at low speed in between, 1 min at end. Don't overmix.

Pour batter into parchment paper-lined 9×5 metal pan. Dredge with toothpick to break large air bubbles. Drop on counter to level.

325 F, 35 minutes, until clean toothpick.

Wrap tightly in plastic, refrigerate overnight upside down.

Cut off sides, serve in slices.
updated 3/25, fixing a typo.