Boy oh boy, why did I follow a New York recipe for Louisiana dish? Counting the 40 minutes it took me to peel and devein 50 shrimp, this dish took me almost 2 hours of active time to cook. That's because fresh thyme that's a little old is a pain to strip, the veggies absorbed all the oil so I had to redo the roux, and I realized last minute that I should brown the sausages. Just to cap it off, I didn't even like the outcome that much…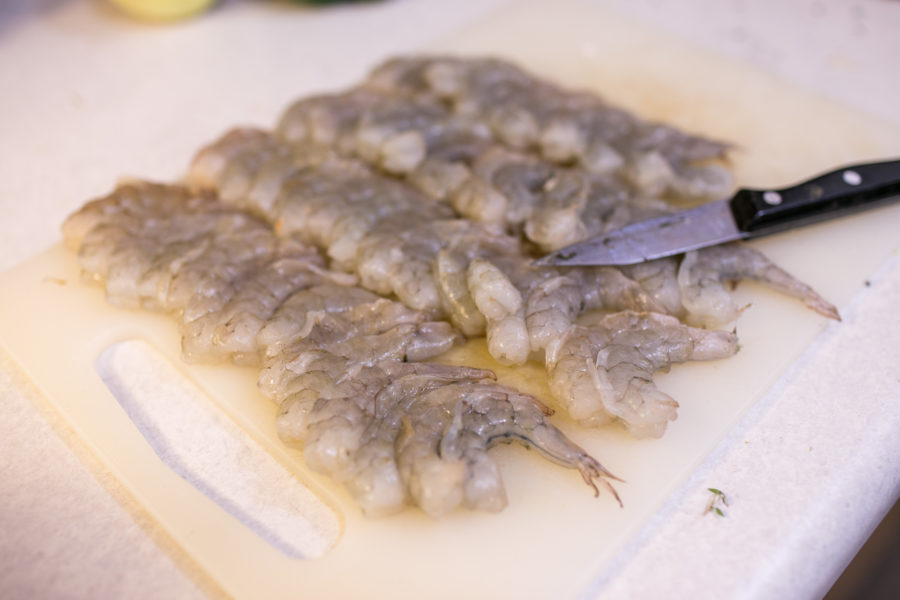 Below is a recipe I'd follow on a second try, modified to use fresh tomatoes, more sausage, fewer bougie ingredients (like tomato paste, which the NYTimes throws in everything).
---
Shrimp and Andouille Gumbo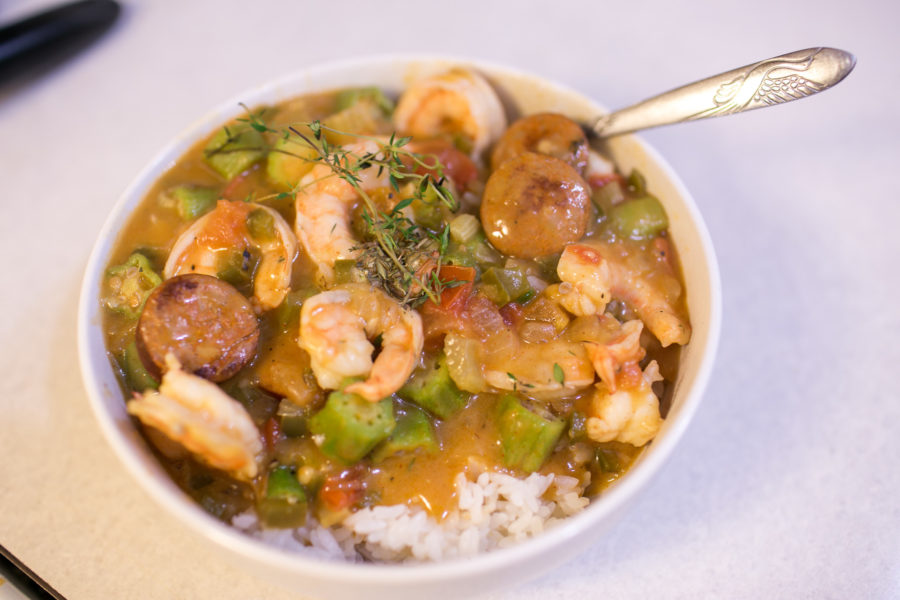 Peel and devein

1 lb medium shrimp

in shell. Season with

salt

,

pepper

,

1 tsp thyme

,

2 cloves garlic

minced. Refrigerate.

Make shrimp broth: In

1 tbsp olive oil

, fry shrimp shells,

2 thyme sprigs

,

3 cloves garlic for 1-2 minutes. Don't let brown. Add 6 cups water

,

1 bay leaf

,

salt

,

and

pepper

. Simmer for 45 minutes. Strain.

Make roux: Heat

1/4 cup oil

(optimally bacon drippings). Stir in

1/2 cup flour

, cook on medium while stirring until richly browned.

Saute

1 large onion

diced,

1 green bell pepper

diced,

3 ribs celery

diced,

4 cloves garlic

minced. Add

1 tsp paprika

,

1/4 tsp cayenne

.

Slice and brown

12 oz andouille sausages

.

To boiling broth, stir in roux. Add veggies, sausages,

3 tomatoes

diced (or 15 oz can),

2/3 lb

(half bag)

okra

sliced. Add

2 tbsp Worcestershire sauce, 1 bay leaf, 1/2 tsp thyme

.

Season

generously. Simmer for 60-90 minutes.

Add shrimp (as much that will be eaten now). Cook for 2 minutes. Garnish with

4 scallions

sliced.

Serves 6-8 over rice or cornbread.