After making cha siu and a Taiwanese-style pork roast, I was looking for other regional preparations of pork butt/shoulder (apparently butts and shoulders are interchangeable in pigs). I thought carnitas would be overly ambitious, but of course Kenji pulls through with a non-slow cooker non-pork lard soaked recipe.
Carnitas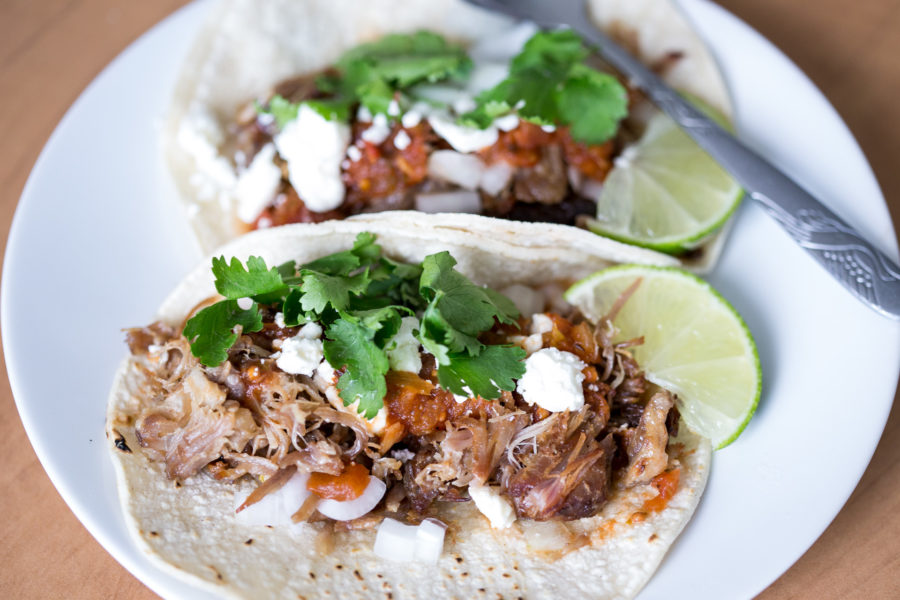 Cut

3 lbs boneless pork butt

with rind removed into 2-inch cubes. Season with

1 tbsp salt

. Arrange in 9×13 baking dish with no spaces.

Quarter

1 medium orange

. Squeeze over juices. Add orange pieces, 2 quarters of a

medium onion

,

4 cloves garlic halved

,

2 bay leaves

,

1 cinnamon stick

broken up. Pour over

1/4 cup oil

.

Bake tightly covered with foil at 275 F for 3.5 hours, until fork-tender.

Remove other solids. Strain out liquids, which should result in 1/2 cup liquid and 1/2 cup fat. Shred pork with forks. Season with more

salt

. Optionally add some fat back to pork.

Roast under broiler for 6 minutes to develop crispy edges. Rearrange and roast again for 6 minutes.

Serve with salsa

,

1 onion

finely diced,

1/2 cup cilantro

chopped,

limes

,

crumbled cheese

, on

corn tortillas

.